Album 10
Playtime and Bedtime with Bach
Embrace Bach's baroque era compositions during playtime and bedtime.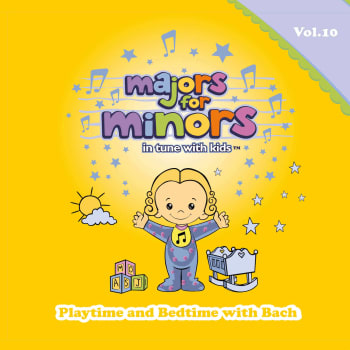 Playtime and Bedtime with Bach
Playtime and Bedtime with Bach was developed embracing Bach's Baroque era compositions, and combining this with our unique formula.

The first half is designed to stimulate children during activity (active stimulation). By de-stressing the brain it prepares young listeners for effective play and learning. The second half creates a peaceful atmosphere. Tranquility flows from the calming effect of this passive stimulation.
Track list
01 - Sarabande - Partita No. 2 in C Minor
1:59
02 - MMarch in E-Flat Major
1:36
03 - Invention No. 13 in A Minor
2:52
04 - March in D Major
2:25
05 - Minuet in G Major
2:37
06 - Menuet I - Partita No. 1 in B-Flat Major
1:42
07 - Invention No. 4 in D Minor
2:18
08 - Bourrée - Suite in E Minor for Lute
2:48
09 - Allemande - French Suite No. 6 in E Major
2:22
10 - Fughetta in C Minor
2:26
11 - Little Prelude in C Minor
3:00
12 - Minuet in a Minor
3:17
13 - Minuet in G Major
4:53
14 - Little Prelude in C Major
2:37
15 - Minuet in G Minor
3:55
16 - Little Prelude in E Minor
2:14
17 - Cello Suite No. 1 in G Major
3:16
18 - Violin Sonata No.4 in C Minor
4:24
19 - Minuet - French Suite No. 1 in E Major
3:28
20 - Minuet in C Minor
1:39
© 2019 Major Product Licensing