Album 9
Mozart for Minors
Classical music from the extraordinary Wolfgang Amadeus Mozart.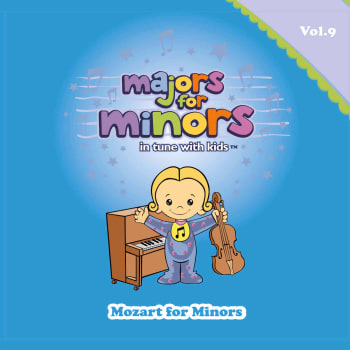 Mozart for Minors
Wolfgang Amadeus Mozart was an extraordinary musician who began displaying his musical gift at a very young age, playing the piano confidently at age four, and composing his first piano pieces at age five.

The "Mozart Effect" is an inclusive term signifying the transformational powers of music in health, education and well-being.
Track list
01 - Rondo Alla Turca - Piano Sonata No. 11 in A Major
4:00
02 - Allegretto - Fantasia No. 3 in D Minor
2:57
03 - Andantino - The London Sketchbook Piece No. 2 in C Major
2:45
04 - Menuetto - Piano Sonata No. 4 in E-Flat Major
1:47
05 - Allegro - Piano Sonata No. 16 in C Major
5:22
06 - Allegro - Piano Sonata No. 5 in G Major
4:51
07 - Rondo in D Major
7:38
08 - Minuet in G Major
3:25
09 - Larghetto - Piano Concerto No. 26 in D Major
2:20
10 - Andante - Symphony No. 50 in D Major
3:23
11 - Eine Kleine Nachtmusik - Serenade No. 13 for Strings in G Major
3:47
12 - Andante - Piano Concerto No. 21 in C Major
3:27
13 - Adagio - Piano Sonata No. 2 in F Major
4:41
14 - Romanza - Piano Concerto No. 20 in D Minor
4:26
© 2019 Major Product Licensing